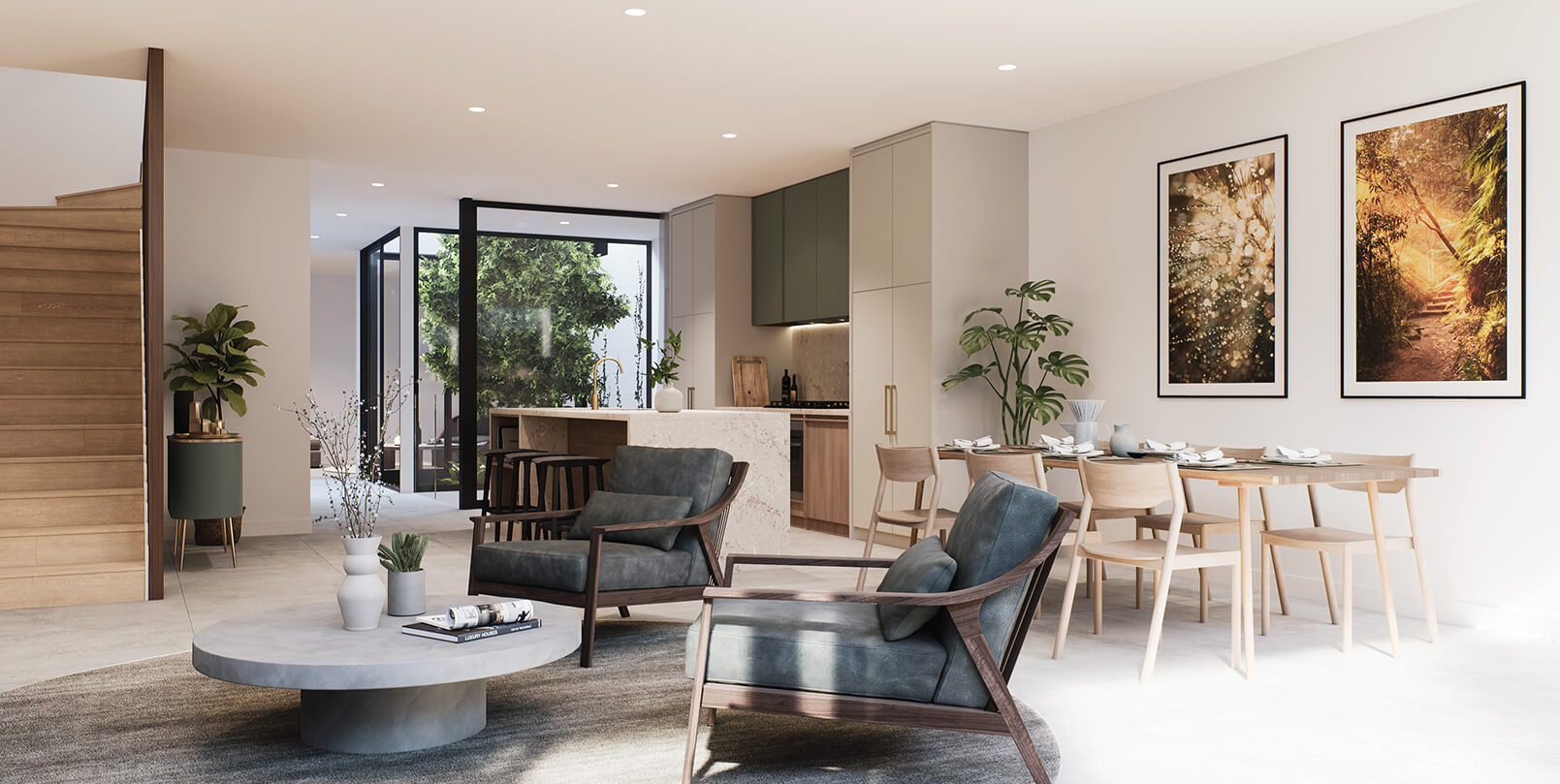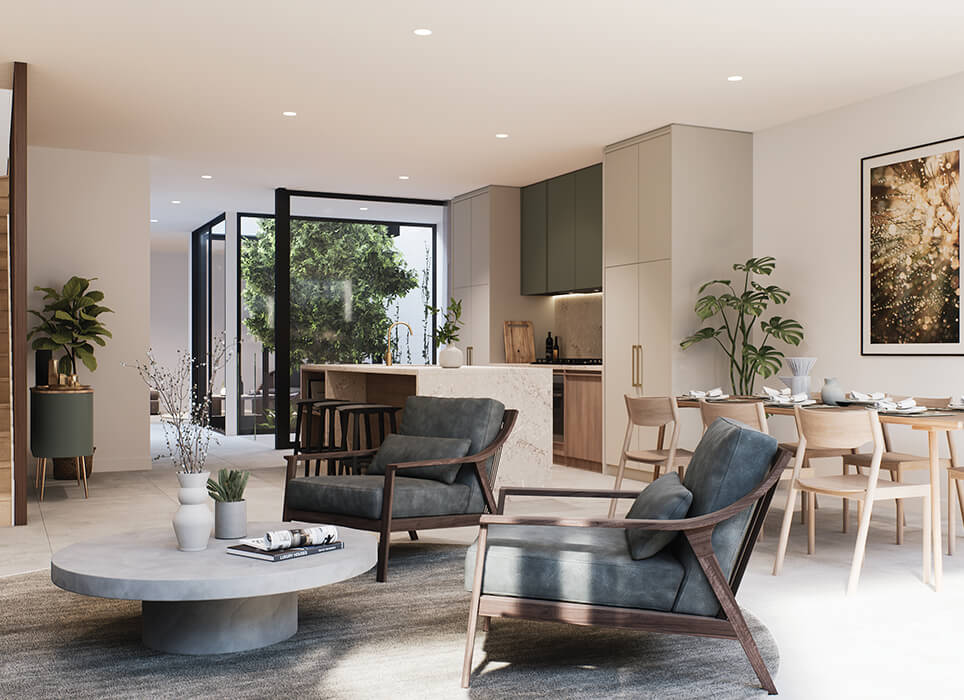 courtyard homes
Located at the heart of the site, the five Courtyard Homes showcase a design and layout which is very much inward focused to create a distinct sense of privacy. The combination of an interior courtyard and an interior atrium garden achieves an airy lightness and an intimate indoor/outdoor experience.
These residences encompass a unique flexible second living room opening to the interior alfresco spaces, which can be utilised as anything from a media room, informal living area, office or workout space to a guest bedroom, with the option to incorporate an ensuite bathroom in the future. The Courtyard Homes sit adjacent to a landscaped communal garden with direct access to the reserve, which forms a central component of the masterplan, reinforcing the natural landscaping. Residents enjoy use of a pergola-shaded barbeque area, manicured lawn, bathroom amenities and a sustainable orchard garden, framed by fruit trees.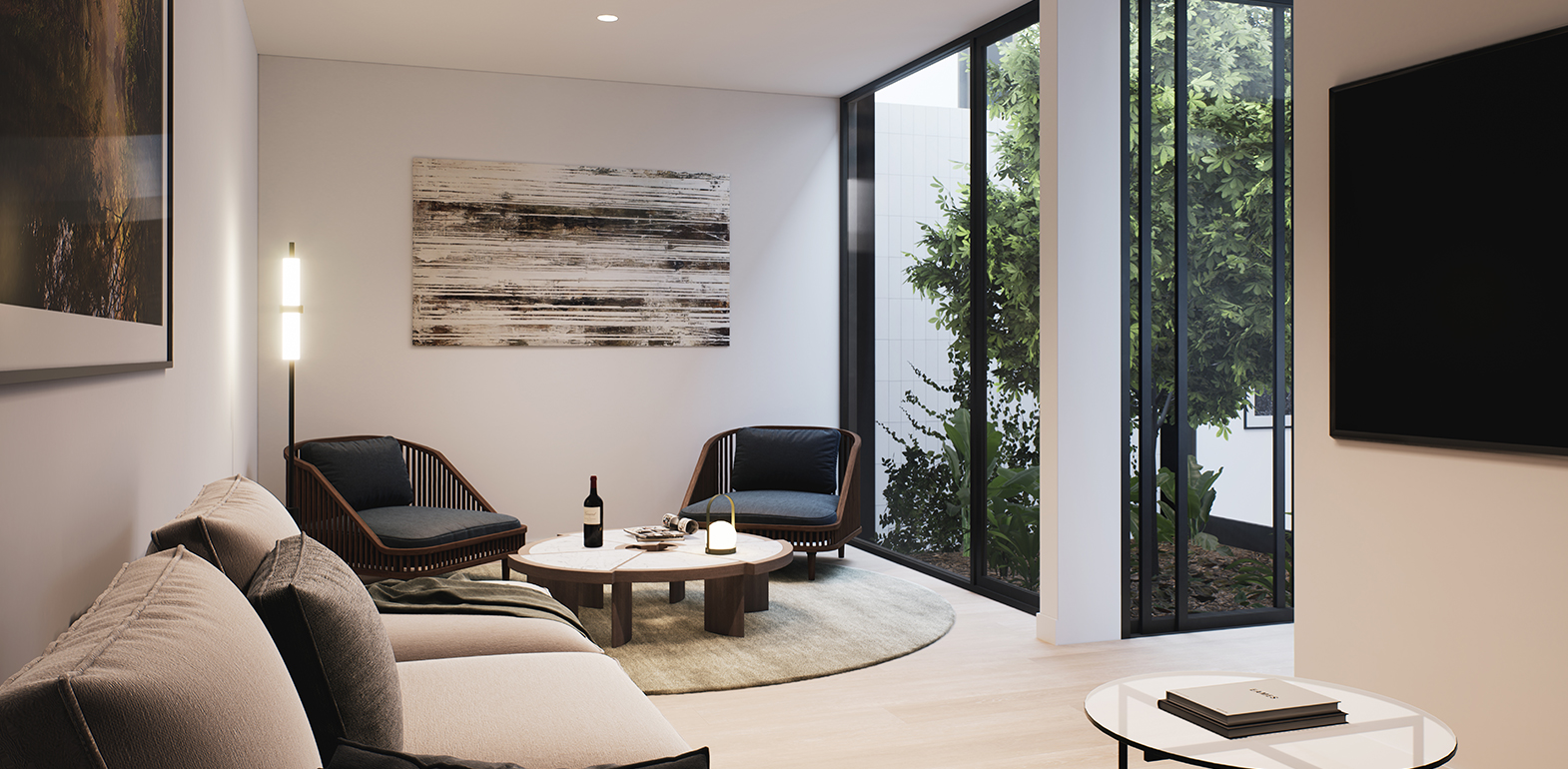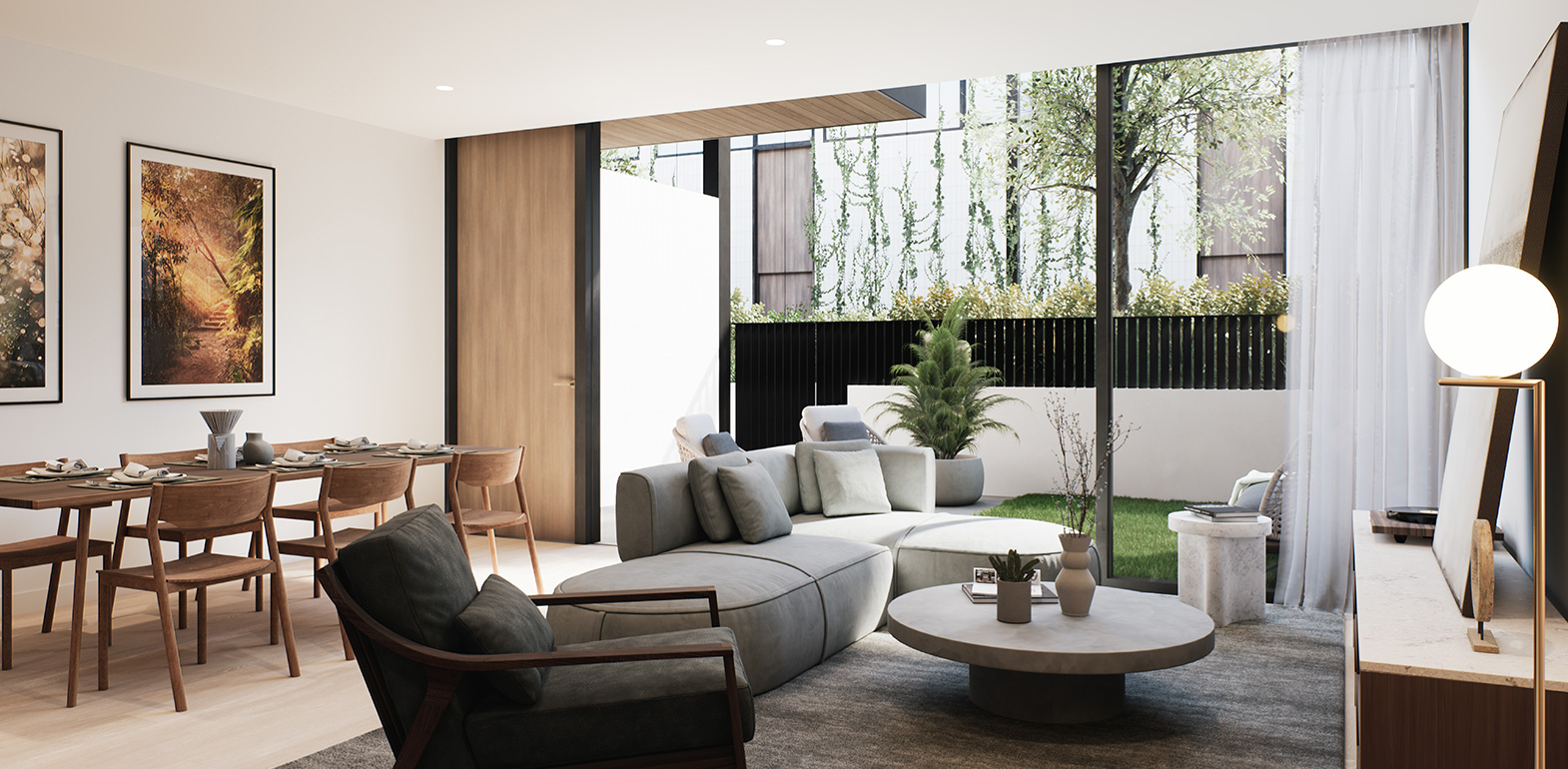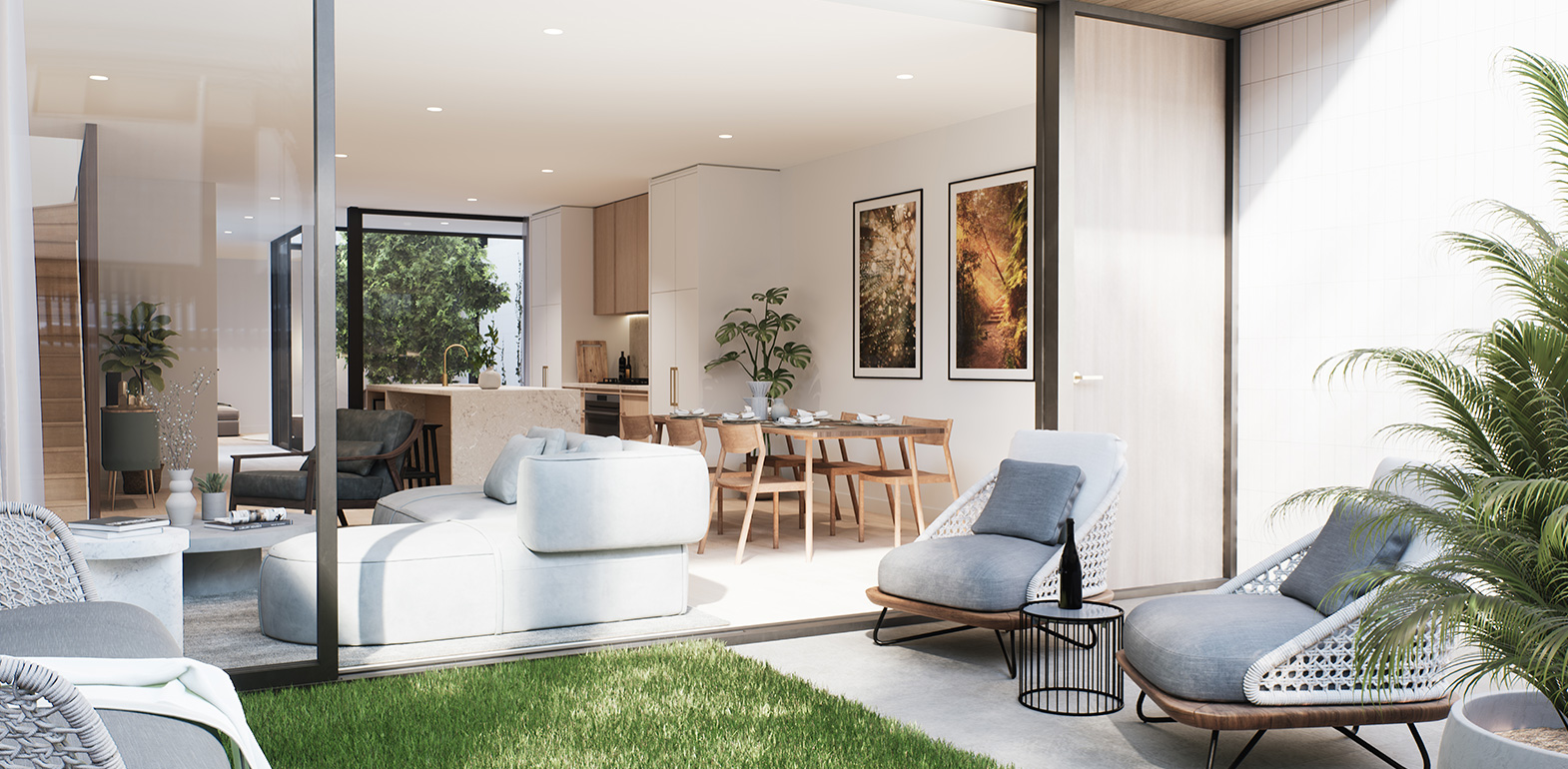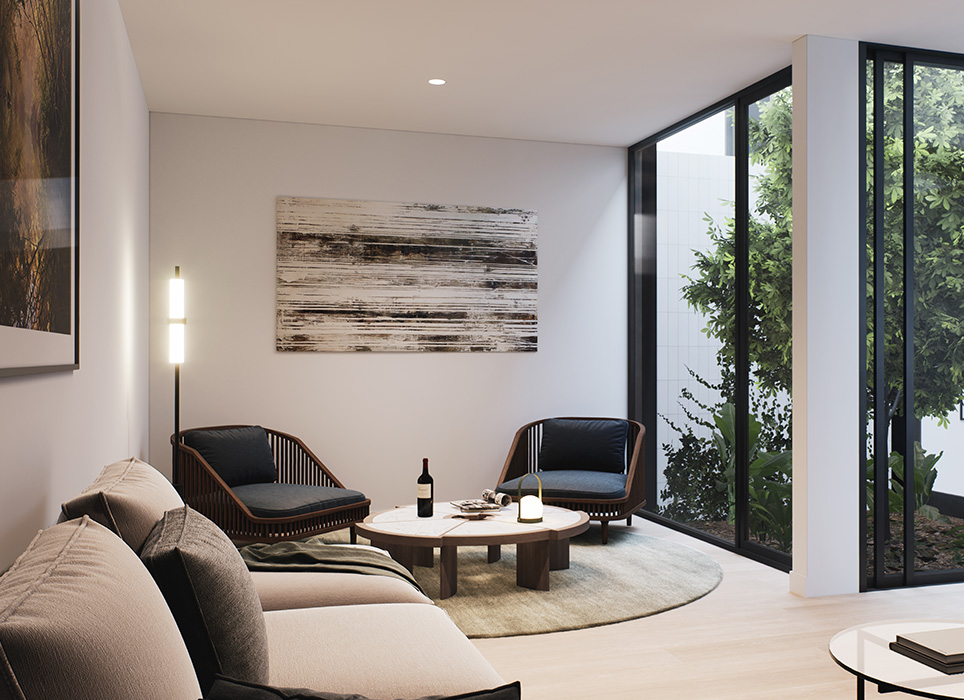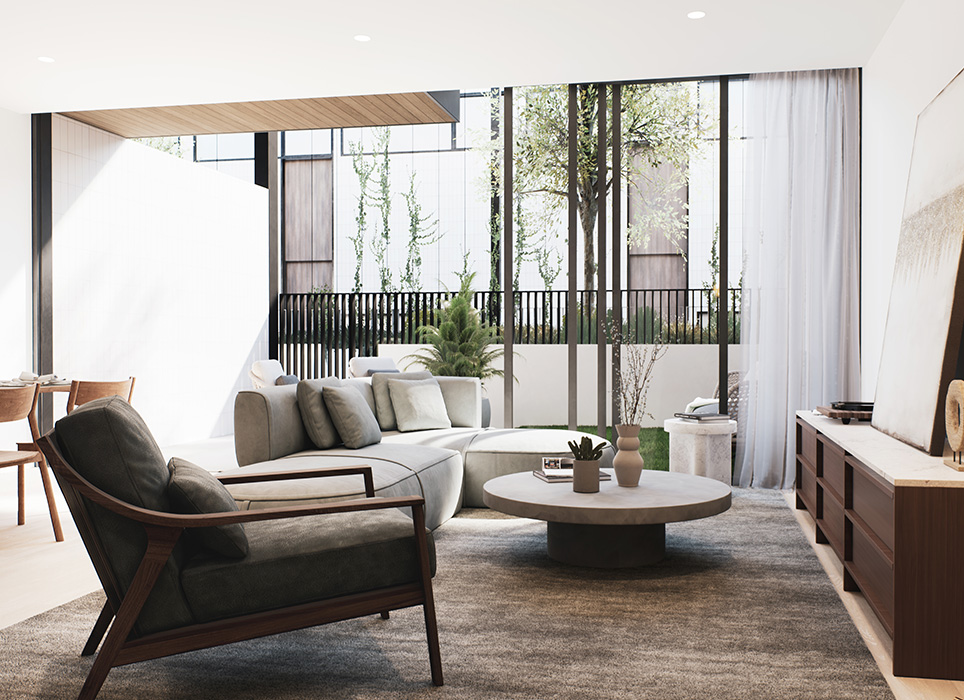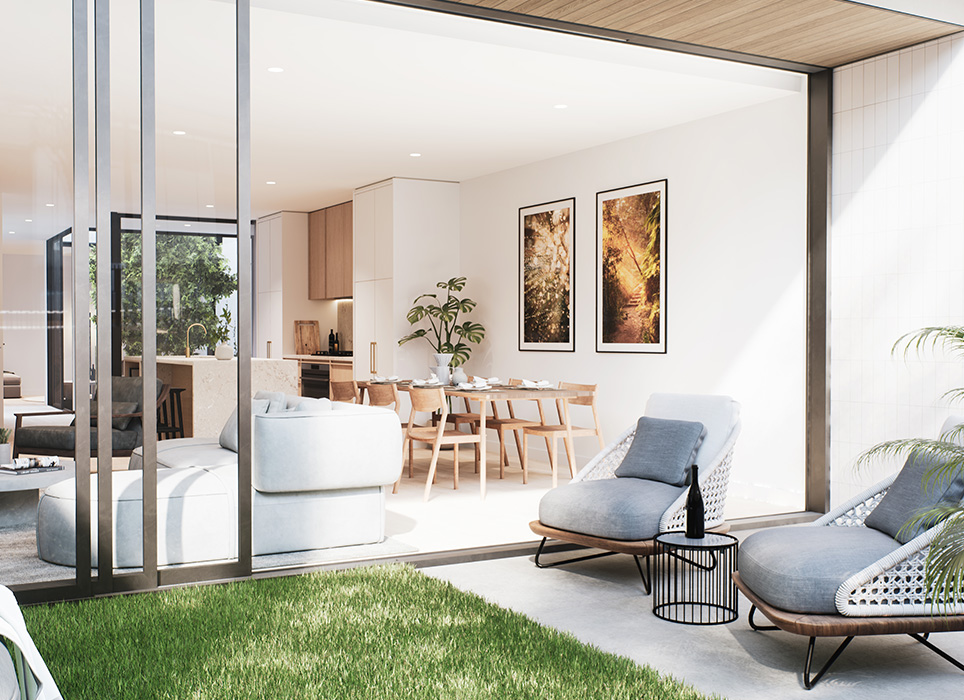 Flexible second living areas are unique design inclusions that allow you the freedom to determine how these additional spaces are best put to use. As your lifestyle requirements change, these versatile rooms can adapt to your needs, making them perfect for any stage of life, from those requiring guest accommodation, to those working from home or desiring a private zone to indulge their interests.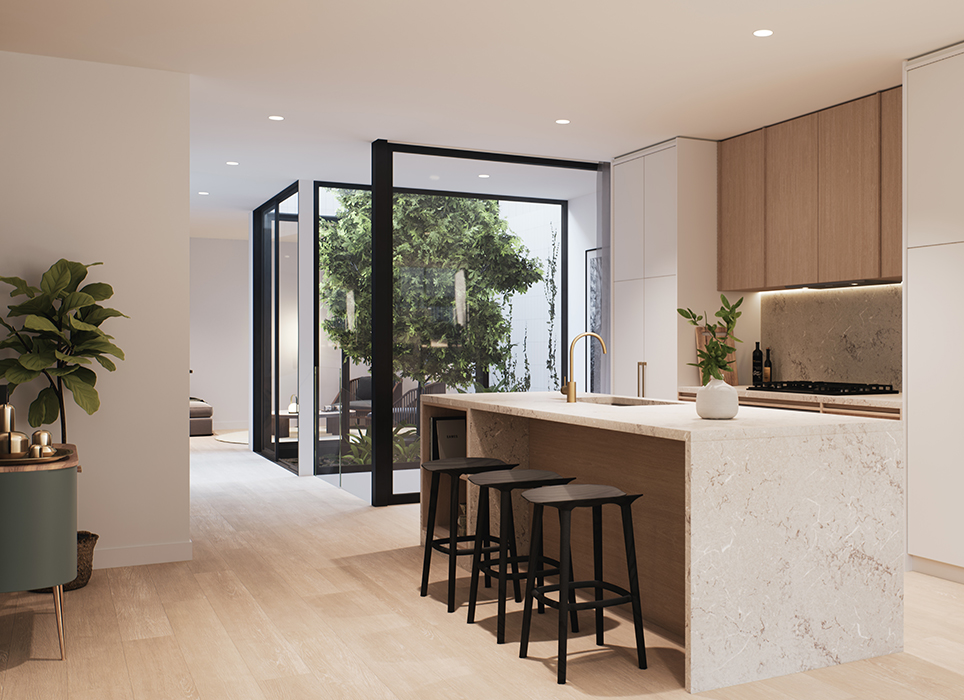 heart of the home
The Flexible second living rooms overlook the interior courtyard and atrium, where floor-to-ceiling glass enhances the connection between the indoors and out and entices natural light to filter into the residence. This extensive use of glazing allows leafy views to take centre stage from every vantage point in the various living spaces. The kitchens of the Courtyard Homes sit at the centre of the entertaining areas, creating a real 'heart of the home' feeling.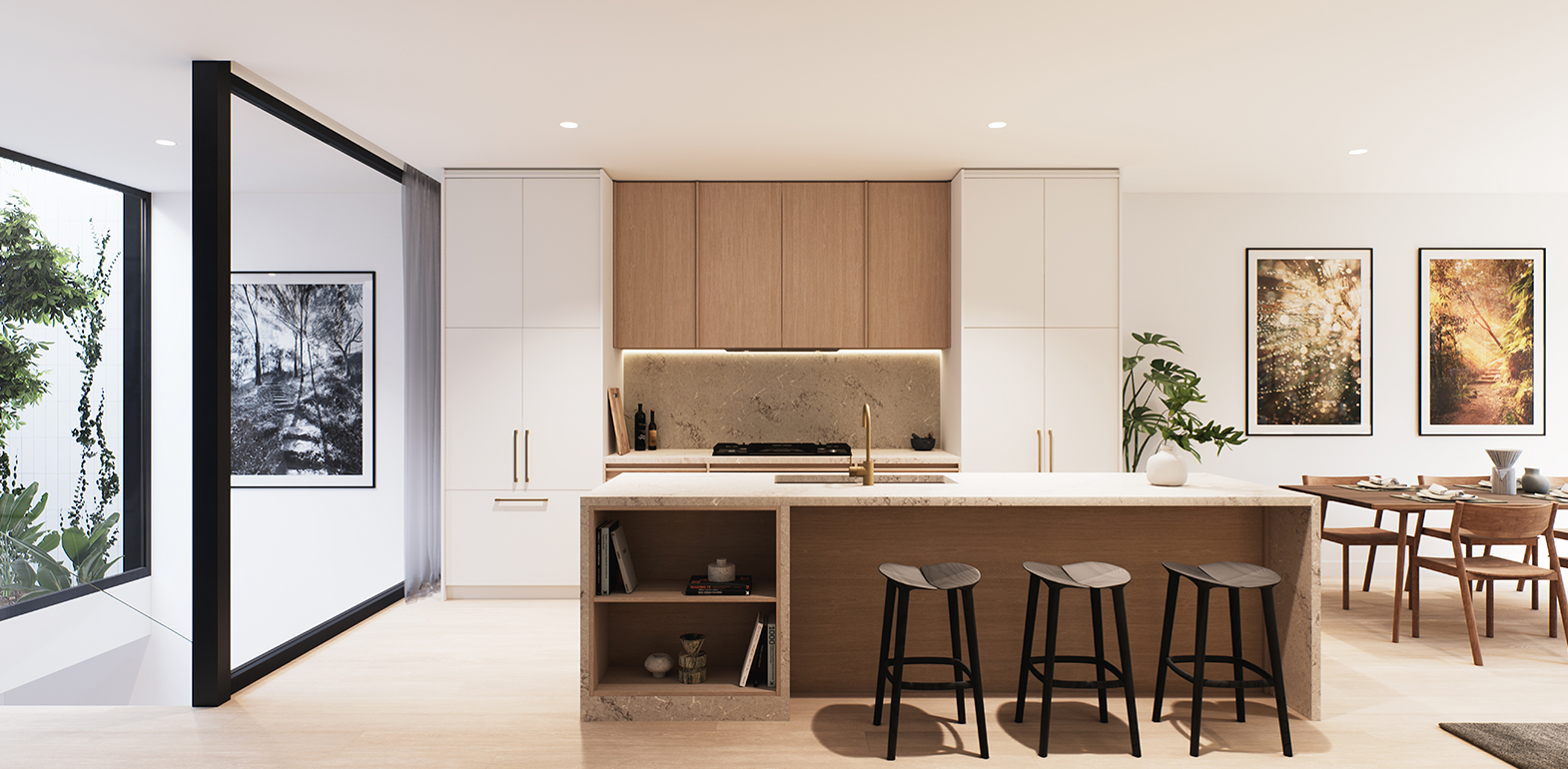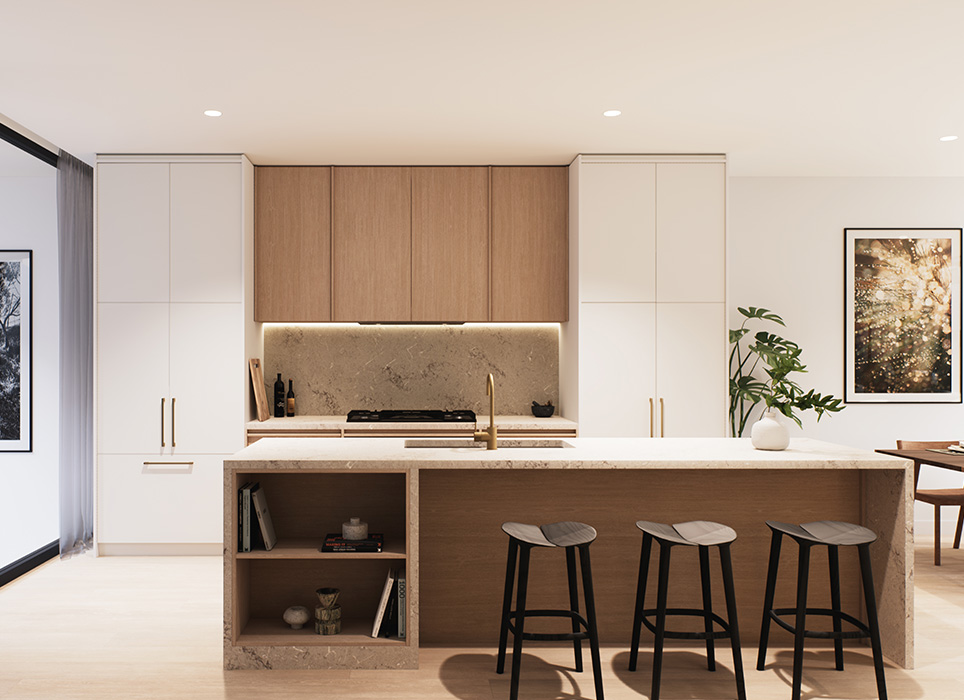 With accents varying with your selected colour palette, kitchens are finished with engineered quartz stone benchtops in Bianco Drift tones, married with Coastal Oak or Sepia Oak joinery and contrasting Oyster Grey or Green Slate cabinetry. Quality Parisi Brushed Brass tapware, with scratch resistant PVD finish, adds an elegant finishing touch.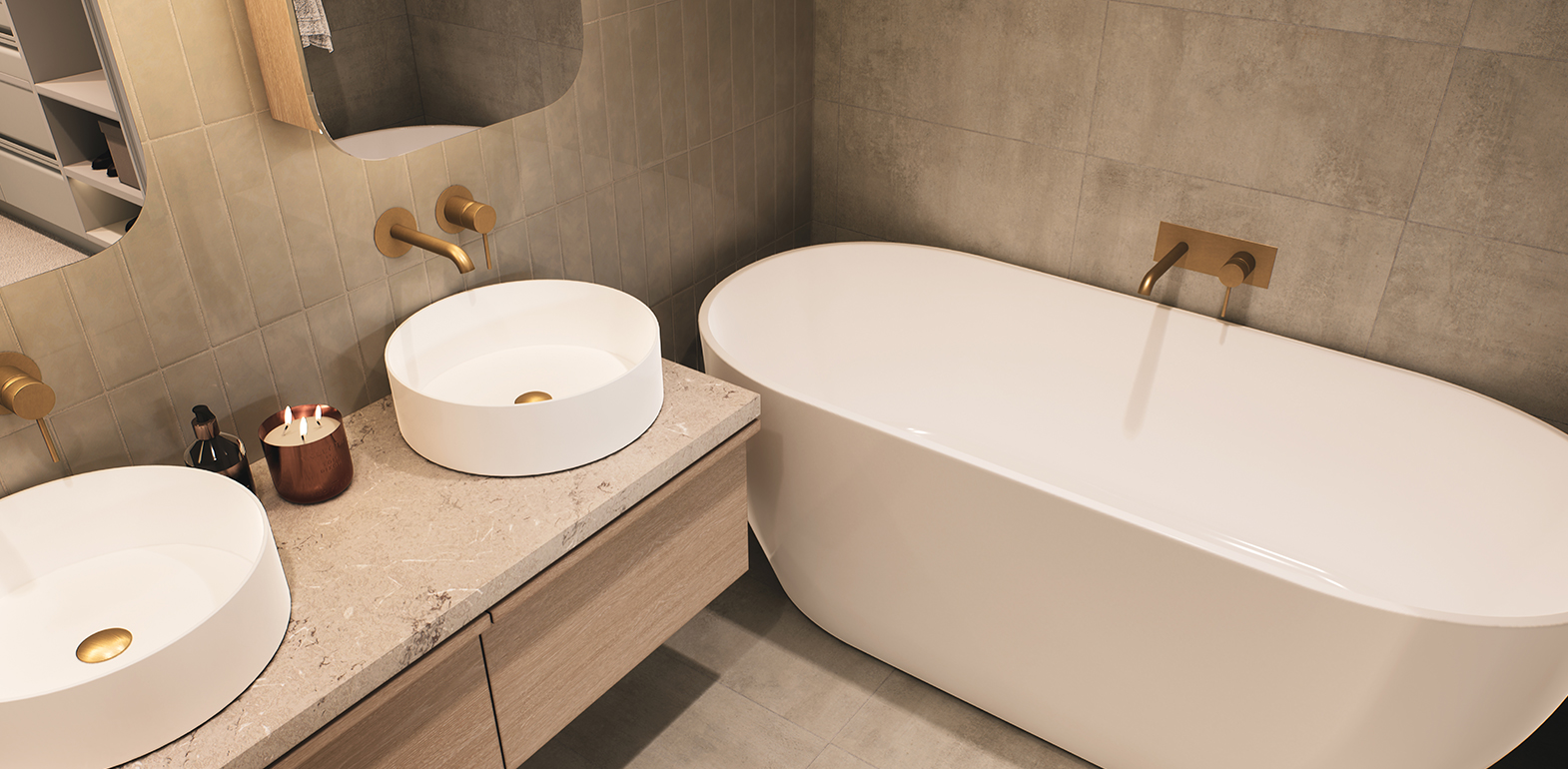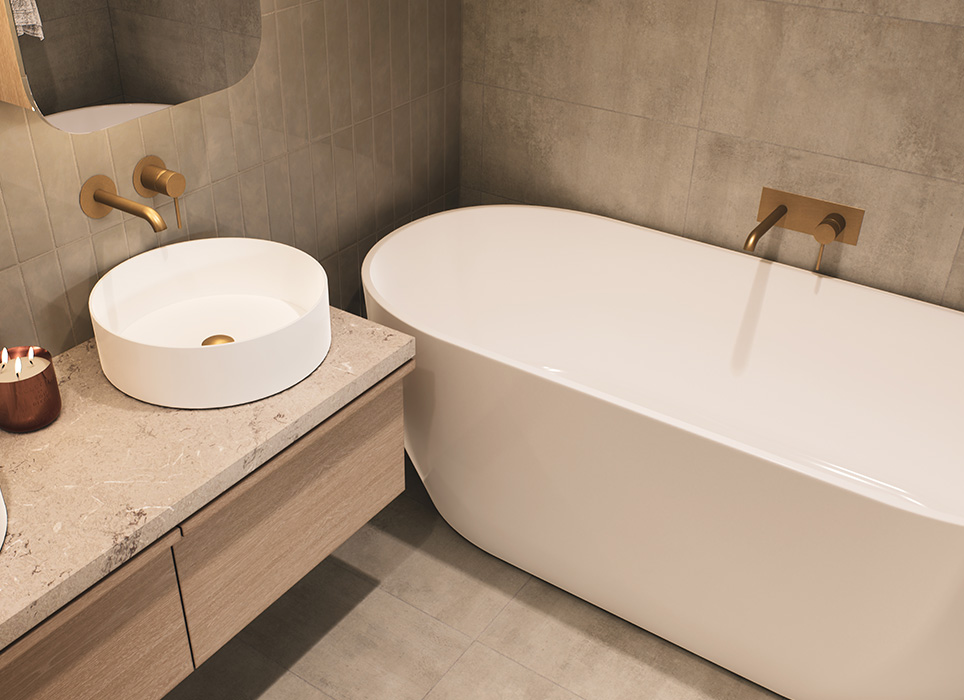 Clean lines and uncluttered spaces define the calming bathrooms. Frameless glass shower surrounds support the minimalist aesthetic, with large rain showerheads, additional brushed brass hand showers, recessed nooks for your toiletries and deep baths. Elegant curved edge mirrors above the vanities have diffused underlighting for a subtle effect.
enquire now
submit Your details to find out more or call
Tim Abbott 0425 285 833 | Office 02 9969 1500